Our Mission
Empower restaurants to do more of what they love. With solutions that work.
Lavu is headquartered in downtown Albuquerque, New Mexico, in the beautiful American Southwest. Our headquarters are literally on Route 66, which brings a sense of both history and progress to our surroundings.
Being in Albuquerque gives us a Wild West spirit. We like to think we bring that to what we do: Like our predecessors here, we break the mold. We are pioneers and innovators. We were the very first restaurant point-of-sale system for the iPad in the App Store, and since then, we have grown tremendously to become the largest mobile point-of-sale system for restaurants in the world.
Our growth started with an aha moment. While tech entrepreneurs Andy Lim and Corey Fiala were eating dinner at a restaurant one night, they noticed how frustrated the restaurant owner was with his point-of-sale system. Lim and Fiala realized that existing POS options didn't meet restaurant needs—and they could build one that would. Andy Lim founded Lavu in 2010, naming the company after his son's pronunciation of "Lav yu, daddy."
When Lavu launched, it offered restaurants a totally new POS solution: one you can hold in your hand. Our innovation quickly caught on, and in just a few years, we have expanded into 80+ countries on 6 continents. You can use a Lavu POS everywhere from Slovakia to Mauritius.
Since our founding, we have achieved several milestones:
In 2015, Lavu received a $15 million investment, the largest Series A venture investment in New Mexico state history. Aldrich Capital Partners bestowed the investment, with Aldrich partner Mirza Baig noting that "Lavu is a best-of-breed solution in the mobile POS space," letting restaurants be completely focused on their unique needs.
In 2016, Lavu announced a partnership with PayPal that would provide establishments with industry-leading rates. Since then, restaurants have saved thousands of dollars in transactional costs.
Where do we go from here? The answer is simple: more growth, more innovation, and more empowerment of restaurateurs to grow and innovate in turn.
In the News
The acquisition will allow Lavu to provide seamless online ordering alongside their comprehensive restaurant management platform April 24, 2019 11:03 AM Eastern Daylight Time ALBUQUERQUE,

The acquisition complements Lavu's restaurant management platform with end-to-end payment automation solutions August 07, 2019 03:27 PM Eastern Daylight Time ALBUQUERQUE, N.M.--(BUSINESS WIRE)--Leading mobile point-of-sale

Lavu Partners with Omnivore to Bring Technology to Restaurants   Restaurants can take advantage of Omnivore's ecosystem of third party solutions through the new partnership
Saleem has a "founders mentality", with a track record of working with high-growth software companies. He is a rare breed of someone who is both a hands-on leader and a strategic visionary and brings with him a myriad of inspiration, technical acumen, and a passion for our products, services, and customers. Prior to Lavu, Saleem successfully launched software and hardware products at start-ups via Y Combinator and managed a $79 billion investment portfolio on behalf of the United States Department of the Treasury. Saleem earned his MBA from the Harvard Business School and his undergraduate degree from the University of Michigan — Ann Arbor.
Saleem S. Khatri
Chief Executive Officer
Ricardo Morales serves as Vice President of Product Development at Lavu, driving innovative and robust customer-oriented software solutions. Ricardo is a seasoned technologist, with over 20 years of experience in increasingly challenging and successful positions in the software industry. Ricardo holds a BS in Computer Engineering from Simon Bolivar University and an MS in Management Information Systems from the University of Central Florida. He thrives in start-up environments and has a passion for solving complex problems. When not working hard in Lavu's Miami offices, Ricardo enjoys riding his mountain bike, road bike, or motorcycle.
Ricardo Morales
Vice President of Product Development
Justin Walters
Lavu - Interim Director of Sales
Originally from New Jersey, Jacquelyn attended Sandia Preparatory School and went on to receive a BS in Emergency Medical Services with a concentration in Business from the University of New Mexico. She later received an MBA in Human Resource Management from New Mexico Highlands University and transitioned from healthcare to technology. Jacquelyn operates with a "people first" mindset and strives to create a collaborative and inclusive working environment.
Jacquelyn Turcich
Lavu - Director of HR and GM of Albuquerque
Leading the Finance, Customer Success and MenuDrive teams, as well as responsible for M&A and strategic partnerships
Hunter Swartz
Lavu - VP Finance & Operations
Roger Lopez has 21 years of marketing leadership both at billion dollar a year organizations and Start-ups, consistently increasing revenue and decreasing costs.
Roger Lopez is a seasoned leader that can direct an organization in the visioning of a marketing strategy, development of an economic business case and execution of an aggressive project plan. Skilled in effective sales and marketing communications, business partnership development, team building and mentoring.
Roger Lopez
Lavu - VP of Marketing
Joe Meuser
Lavu - Product Management
Mirza Baig, the founding partner of Aldrich Capital Partners, joined Lavu in 2015. He is a dedicated investor in technological innovation, having previously been involved in scaling operations and growing sales at numerous tech and healthcare companies.
As a co-founder of Imaging Advantage, Legal Advantage, and Tech Fetch, he built these companies from zero revenues and fewer than 10 employees to well over $100 million in revenues and over 500 employees globally. Previously Mirza held executive positions in investment and financial management at AOL Time Warner. He serves as a board member for the Young President Organization of Northern Virginia, Medicaid of Virginia, and Sorensen Institute for Political Leadership at the University of Virginia. Mirza is an MBA graduate of Harvard Business School; he received his bachelor's degree from Cornell.
Mirza Baig
Chairman of the Board
Andy Lim is the co-founder and former CEO of Lavu. He started Lavu in August 2010. Currently he is the founder and CEO of AddMi, a business-networking app. Previously Andy was the founder and CEO of Lim Web Design, a web design agency based in Albuquerque. Andy serves on the Board of the Albuquerque Economic Development Corporation and the Alumni Council Board of Directors of the University of New Mexico. He received his Bachelor of Science in Management Information Systems from the University of New Mexico.
Andy Lim
Co-Founder
Corey Fiala is a co-founder and former CTO of Lavu. After starting his career developing content management systems and touch-screen museum kiosks, Corey started a database and web consulting business called Meyerwind. Shortly after, he co-founded Event Rental Systems, a SaaS software for rental companies. He later teamed up with Andy Lim to start Lavu in 2010. Corey currently serves on the Lavu board, and he is also an Event Rental Systems board member. When not working in the software field, Corey enjoys hiking, skiing, and playing guitar and/or drums with his band.
Corey Fiala
Co-Founder
Lavu Team – US Headquarters – Albuquerque, NM
Photo credit: Kathryn Burn
India Team – Hyderabad, India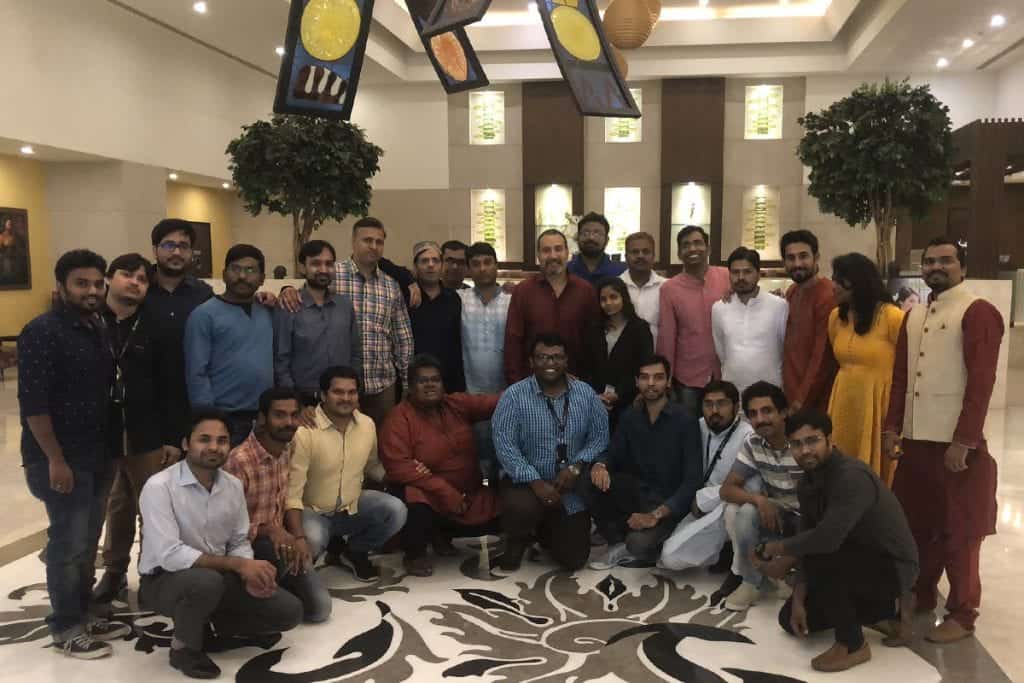 Schedule a demo with LAVU